THE BATTLE OF THE SHORT HILLS,
THE REBELLION IN UPPER CANADA,
1838
FAILING TO SEIZE POWER BY FORCE IN TORONTO ON DECEMBER 5, 1837, WILLIAM
LYON MCKENZIE WAS LED TO THE UNITED STATES BY SAMUEL CHANDLER, A WAGON
MAKER FROM ST. JOHN'S. ON JUNE 12, 1838, A "PATRIOT ARMY" OF SOME 29 ARMED
AMERICANS AND UPPER CANADIANS, INCLUDING SAMUEL CHANDLER, LEFT GRAND ISLAND
IN THE UNITED STATES TO INVADE CANADA. EARLY ON JUNE 21, 1838, THE "PATRIOT
ARMY", NOW ABOUT 50 MEN, RUSHED OSTERHOUT'S INN ON THIS SITE WHERE TEN QUEEN'S
LANCERS WERE POSTED TO KEEP THE PEACE IN ST. JOHN'S AND THE SHORT
HILLS. THE LANCERS WERE CAPTURED, BUT LATER RELEASED UNHARMED. CHANDLER
AND OTHER RING LEADERS WERE HUNTED DOWN AND TRIED FOR TREASON IN NIAGARA
(NIAGARA-ON-THE-LAKE). JAMES MOREAU WAS HANGED; THE OTHERS WERE SENTENCED
TO VAN DIEMEN'S LAND (TASMANIA), THE BRITISH EMPIRE'S PENAL COLONY THEN. THIS
INCIDENT WAS ONE AMONGST MANY THAT WOULD ULTIMATELY LEAD TOWARDS THE
PEACEFUL ESTABLISHMENT OF RESPONSIBLE GOVERNMENT IN THE LATE 1840'S.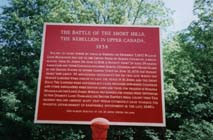 THIS PLAQUE ERECTED BY THE ST. JOHN'S CENTRE INC., 1988.
The writing in capital letters refers to the red signpost memorial.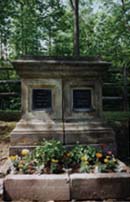 Read Samuel Snow's narrative, edited by Cassandra Pybus.
Images courtesy of Cassandra Pybus.