Between 1822 to 1833 some 1150 convicts were retransported to Macquarie Harbour penal station, Western Tasmania. The main settlement was located on Sarah Island although newly arrived convicts and those sentenced to work in irons were housed in a miserable building on a detached and wind swept outcrop of rock.
Davis' narrative provides a unique view of convict life at Macquarie Harbour penal settlement in the early 1820s. In the summer of 1998 two carved stones were exposed an a long low tide at Sarah Island. The stones once formed part of a lintel which supported a larger stone carved in relief with a royal crest.
There was a similar carving on each side of the 'New Penitentiary'. David Burn left a description of the building when he visited the island in 1842 in company with Sir John and Lady Franklin. "Immediately in the rear of the dockyard the prisoners' barracks are placed. The chief building is of good substantial red free-stone, containing three long commodious rooms in as many stories. Over the entrance an artist has graven the royal crown with a G.R., and an intimation that April 1828, beheld the completion of the structure."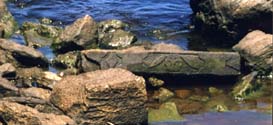 Much of the penitentiary has now collapsed into the sea
Hamish Maxwell-Stewart, University of Tasmania, Australia
See an essay about the identity of Convict Davis. The Davis narrative has been broken into 3 sections: I/ II/III.
Photographs - Kiah Davey, Round Earth Company, Strahan.