Colonialism and Its Aftermath: seminar February 2001
Friday 16 February at the early colonial homestead of Somercotes, near Ross, in the midlands of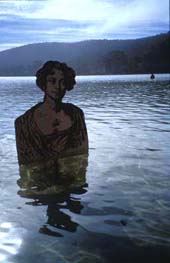 Tasmania.
Location Just 4km south of Ross: there is a brown tourist sign marking Somercotes, a right hand exit if travelling from Hobart, a left hand turn if travelling from Launceston.

Programme

9.30-10.00 Essential business items

10.00-12.30 Papers


Pam Allen Hybrid Identities: The Progeny of Colonialism.

Julie Gough Trying Times: Visual Reconsiderations of Historical Narratives

Ian Green Colonialism and Its Linguistic Aftermath: Aboriginal English at Wallaby Cross

Barbara Hatley Coloniality, Sexuality and Modern Indonesian Writing

Herb Kimmel Governor Arthur's Press Gang

Greg Lehman The Mythic Proportions Of Palawa: Transformations in Tasmanian Indigenous Identity

Eva Meidl A Donation to the Colony

Mike Powell The Colonial Contribution to Colonialism: Tasmanian Rev JF Goldie in the Solomons 1903-1948
12.30-2.00
Lunch followed by tour of the property for those who wish to go; others can sit under the trees and chat


Guest speaker - to be confirmed
Lucy Frost Unearthing Trugernanna: Preliminary Reflections on the Archeology of Memory

Anna Johnston Colonial Textuality and the Conscience of Empire

Deborah Malor Major Wingate's Masque

Anne Neale The Picturesque as Lion-Tamer: Living with the Sublime

Fiona Polack Of Knots and Rivers: Writing Newfoundland and Tasmania

Mitchell Rolls The Meaninglessness of Aboriginal Cultures
4.00-4.30 General discussion



For further information please contact Anna Johnston, English and European Languages and Literatures, University of Tasmania.
Image courtesy of Julie Gough her Whispering Sands, 1988 series, © Julie Gough. See an online exhibition of art work by Julie Gough.